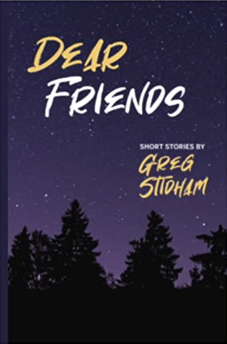 Dear Friends is a collection of diverse short stories, set in different locations with an array of interesting characters. Despite the diversity,, author and retired pediatric intensivist Greg Stidham ties these stories together with a common thread. They all involve well-developed characters, most of whom are not perfect, but who persist in striving to be better. In the process, they discover through mostly chance encounters the redemption possible by even short-lived (or sometimes longer) relationships.
These stories are poignant, provocative, sometime humorous. But they all address, directly or obliquely, the magic that can happen when two people, even strangers, connect on a deeper level than is usually the case.
An accomplished writer, Dr. Stidham has published a memoir, numerous pieces of short fiction, creative nonfiction, and poetry. His books include the memoir, Blessings and Sudden Intimacies: Musings of a Pediatric Intensivist (Pathbinder Publishing 2021) and a poetry chapbook, Doctoring in Nicaragua (Finishing Line Press 2021).
Available at your local, independent bookseller, or here.