Available through your local bookstore by purchase or order, by retail booksellers, and via Amazon. Please support your local independent bookstore. If you can't, you can purchase online here.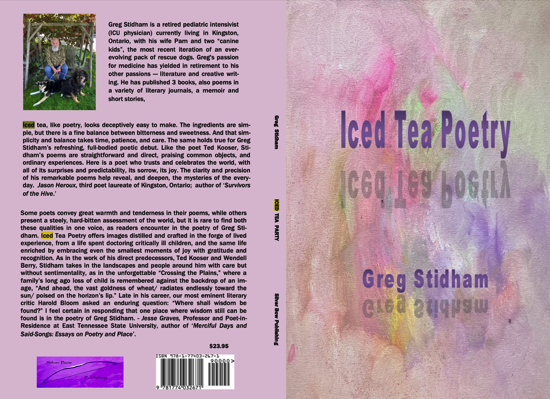 Iced tea, like poetry, looks deceptively easy to make. The ingredients are simple, but there is a fine balance between bitterness and sweetness. And that simplicity and balance takes time, patience, and care. The same holds true for Greg Stidham's refreshing, full-bodied poetic debut. Like the poet Ted Kooser, Stidham's poems are straightforward and direct, praising common objects, ordinary experiences. Here is a poet who trusts and celebrates the world, with all of its surprises and predictability, its sorrow, its joy. The clarity and precision of his remarkable poems help reveal, and deepen, the mysteries of the everyday.
--Jason Heroux, third poet laureate of Kingston, Ontario and author of four collections of poetry and several of short fiction, including most recently Survivors of the Hive (2023).
Some poets convey great warmth and tenderness in their poems, while others present a steely, hard-bitten assessment of the world, but it is rare to find both these qualities in one voice, as readers encounter in the poetry of Greg Stidham. Iced Tea Poetry offers images distilled and crafted in the forge of lived experience, from a life spent doctoring critically ill children, and the same life enriched by embracing even the smallest moments of joy with gratitude and recognition. As in the work of his direct predecessors, Ted Kooser and Wendell Berry, Stidham takes in the landscapes and people around him with care but without sentimentality, as in the unforgettable "Crossing the Plains," where a family's long ago loss of child is remembered against the
backdrop of an image, "And ahead, the vast goldness of wheat/ radiates endlessly toward the sun/ poised on the horizon's lip." Late in his career, our most imminent literary critic Harold Bloom asked an enduring question: "Where shall wisdom be found?" I feel certain in responding that one place where wisdom still can be found is in the poetry of Greg Stidham.
--Jesse Graves, Professor and Poet-in-Residence at East Tennessee State University, author of Merciful Days and Said-Songs: Essays on Poetry and Place, in addition to four poetry collections.